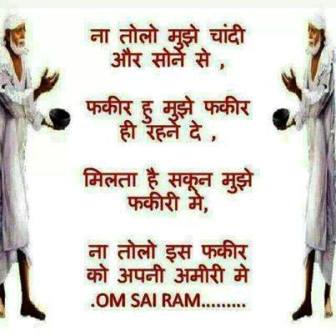 A miracle and Lord Krishna in my dream
(1/1)
gaurav_dctm:
Om Sri Sai Ram...

April 4th 2007 (Wednesday)

Melbourne, Australia

I had not been getting dreams of Sai Baba ji since a long time and I kept on praying to Baba ji for giving me his swapna darshan, but this didn't help me. Then I read a post yesterday in a Sai Baba forum where a devotee prayed 'Shama' ji to persuade Sai Baba so that He gave the devotee His swapna darshan, and it worked!
So, I tried the same on April 3rd (night) before going to sleep… I prayed to 'Shama' ji and asked him to please request Baba ji to give me His swapna drashan too…and it worked for me too!

MY DREAM:
I saw in my dream that my friend and I are in a room and we are working on something and waiting for a time when God would appear before us. Then in my dream I told my friend, its time when God should be appearing…and then I saw Lord Sri Krishna (in his dark blue colored body) ..I saw just half his body for a second (head till his waist).
Then I saw in my dream that I am sitting with someone else and again saw Lord Krishna in the same pose..just half his body for a second (head till his waist).

Then in my dream I told my sister about my dream; how I saw Lord Krishna and then while saying so, I saw Lord Krishna once again! Then I saw in my dream that I am discussing my dream with my mother …I accidentally told her that I saw Lord Shiva, then I said I saw Lord Vishnu…and then I correctly mentioned that I saw Lord Krishna in my dream…while I mentioned the word Lord Krishna, I saw that my mother vanished, and instead there was a full life-size mirror in front of me..and instead of seeing my reflection in the mirror, I saw Lord Krishna instead! He had light-blue colored lean body and must have been around 14-16 years of age, quite young and He looked so sweet…and I wanted to scream but words would not come out of my mouth…I was so amazed and scared at the same time that I have seen God in front of me…then I saw that Lord Krishna came out of the mirror, and ran as if He did not want me to see Him and vanished inside a wall….As soon as He went inside the wall, my eyes opened and I woke up form my dream…and I thanked Shama ji, Baba ji and Lord Krishna for their wonderful gift…

I had been telling my wife for the last few days that I wanted to go to Hare Krishna (ISKCON) temple ..but somehow was not able to take out time…Maybe this dream was just to remind me that I should go to Lord Krishna's temple soon…!
God is Great!

God Bless Everyone
Gaurav
adwaita:
Dear Gaurav ji,

What a wonderful dream it is. I just imagined everything about the dream and it was so beautiful. No wonder, you might be very much excited as you saw cute little krishna. May baba always give what you wish. om sai ram.
Riya:
Amazing !!!

Its really very exciting to know! I can imagine how much u excited after this !

May Baba bless u always !!
mysai:
wonderful dream!

Baba bless u always.

JAI SAI RAM JAI SAI SHYAM
Navigation
[0] Message Index



Listen Sai Baba Radio: