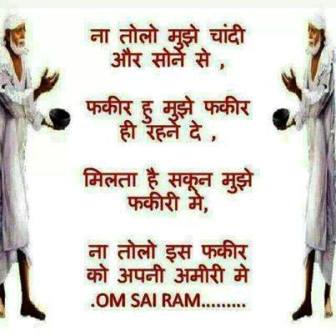 Sai Baba MP3 Songs
shirdisaibaba:
I had a CD for the movie soundtrack Manoj KUmar's Shirdi ke Saibaba and also some other Sai Baba Songs sung by Anup Jalota. Thought of sharing the same with all you devotees. Hope you all like this. I have hosted the same on a free music hosting website. Those who like can download the same too.

Sainath Tere Hazaron Haath - Movie Sound Track

Dipawali Manayein Suhani - Movie Sound Track

Man ke Gahare Andhiare main - Anup Jalota

Jispe Bharosa Mujko - Anup Jalota

Saibaba Bolo - Movie Sound Track

Bolo Jai Saibaba - Anup Jalota

Dum Dum Damru Baje - Movie Sound Track

Chahe Ram Kaho - Anup Jalota

Sai Bhola Bhandari - Movie Sound Track

Jai Sam Ram


Sabka Malik Ek
Shirdisaibaba Bhakt

Baba's sayings
Stay by me and keep quiet. I will do the rest.
What God gives is never exhausted, what man gives never lasts.
Other people's acts will affect just them. It is only your own deeds that will affect you.
What you sow, you reap. What you give, you get.
God is not so far away. He is not in the heavens above, nor in hell below. He is always near you.
If anyone gets angry with another, they wound me to the quick.
If you cannot endure abuse from another, just say a simple word or two, or else leave.



mysai:
shirdisaibabaji, thanku for sharing Baba's songs with all of us.
Baba bless u always.

JAI SRI AKHANDAKOTI BRAMHANDANAYAKA RAJADHIRAJA YOGIRAJA PARABRAMHA SRI SATCHITANANDA SAMARTHA SADGURU SAINATH MAHARAJ KI JAI!!!

-keerti
Ramesh Ramnani:
JAI SAI RAM!!!

Parekh Dear Thanks for sharing all these beautiful BABA's MP3 Songs. Just Wonderful!

MAY BABA SAI BLESS YOU ALWAYS...

OM SAI RAM!!!
saisaibol:
Jai Sai Ram,
The file have probably been removed. or the links are not working. will you be nice enough to upload them again or send the correct links. Will really Appreciate that.

May Sai Bless You.

Jai Sai Ram

Ritesh Arora
KiranS:
Om Sai

I was looking for the similar kind of songs and enrolled into this group recently.

Sai Baba's grace I will able to access these songs.

Thankyou for all this.



<blockquote id="quote"><font size="1" face="Verdana, Arial, Helvetica" id="quote">quote:<hr height="1" noshade id="quote">Originally posted by shirdisaibaba

I had a CD for the movie soundtrack Manoj KUmar's Shirdi ke Saibaba and also some other Sai Baba Songs sung by Anup Jalota. Thought of sharing the same with all you devotees. Hope you all like this. I have hosted the same on a free music hosting website. Those who like can download the same too.

Sainath Tere Hazaron Haath - Movie Sound Track

Dipawali Manayein Suhani - Movie Sound Track

Man ke Gahare Andhiare main - Anup Jalota

Jispe Bharosa Mujko - Anup Jalota

Saibaba Bolo - Movie Sound Track

Bolo Jai Saibaba - Anup Jalota

Dum Dum Damru Baje - Movie Sound Track

Chahe Ram Kaho - Anup Jalota

Sai Bhola Bhandari - Movie Sound Track

Jai Sam Ram

Sabka Malik Ek
Shirdisaibaba Bhakt

Baba's sayings
Stay by me and keep quiet. I will do the rest.
What God gives is never exhausted, what man gives never lasts.
Other people's acts will affect just them. It is only your own deeds that will affect you.
What you sow, you reap. What you give, you get.
God is not so far away. He is not in the heavens above, nor in hell below. He is always near you.
If anyone gets angry with another, they wound me to the quick.
If you cannot endure abuse from another, just say a simple word or two, or else leave.



<hr height="1" noshade id="quote"></font id="quote"></blockquote id="quote">

kiran saripella
Navigation
[0] Message Index
[#] Next page



Listen Sai Baba Radio: