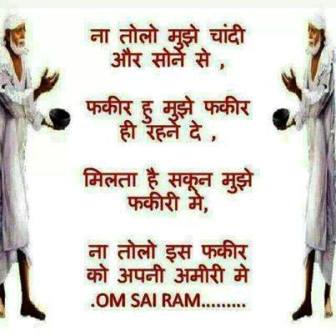 THE SIGNIFICANCE OF CHANTING "Om Sri Sainathaya Namaha"
posting:
Om Sri Sainathaya Namaha

"Om Sri Sainathaya Namaha"is a mantra of Bhagavan Sri Sai. It means literally: "Prostration to Bhagavan Sai." Surrender to Sri Sai is implied therein.

Now, the prostration, salutation, is an external symbol of the internal union. When we do 'Namaskara' to a deity in the temple, to a friend or any person, we join both the palms and bend ourselves low. This Namaskara, and the joining of the palms are indicative of the feeling of union of oneself with the other. "I and you are one"; that is prostration, that is Namaskara.

"Bhagavan Sai, I am one with you" is a spirit of surrender, and here begins meditation on Bhagavan Sai. When the mantra is chanted you have also the requisite atmosphere created in the mind for contemplation on Bhagavan Sai, to begin meditation and to feel His presence. This rule applies to all other mantras, also.

But how are you to proceed further? Mentally, feel that the Lord Sai is seated or standing in front of you, and slowly, after an adequate length of time or period, you will begin to feel His omnipresence in front of you, to the right and to the left, above,below,inside you and so every where.

Though life appears to be very complicated, it would become very simple, a joyous process when you practise Chanting. The more you practise, the greater the strength it will give you. Yesterday's practice will give you additional strength to do practice today, and today's will give you strength tomorrow. Every day you will become stronger and stronger by profounder thoughts of SAI and deeper contemplation on Him. There is no loss of merit in the practice, says the Bhagavadgita. Even a little that you have done is great indeed and it is a wonderful asset which will help you in the future. May the Almighty Lord SAI give you strength to do more and more Chanting.

Om Sri Sainathaya Namaha


Kavitaparna:
OM SRI SAI RAM

Pravin Bhai, Sai Ram!

Nice to see U in the forum. Hope U are gaining good health.

Thank you very much for the above beautiful, meaningful and quite useful post.

Though I do imagine rather visualise presence of Baba with me, the contents of your post give me a new dimension of chanting mantra. Especially, abt. making the namaskara, the explanation given by you gives me think more; analyse more.

For eg., in Reiki, a kind of healing method, the cosmic energy is enabled to pass through the Sahasrara (centre of the skull) and from there it passes to the minute micro chakras that are present in the finger tips. This energy is utilised (further passed to) by the Reiki masters / practitioners to heal the physical / psychological problems of their subjects. It has been said and several evidences are also available that trhu the Reiki, one can go and locate what one was in his/her previous birth. Such is the power of the energy the tiny chakras of the fingers have. This is only an example to know how powerful the palms are. ( Infact, the main difference between other animals and human being is palms and their design).

If we make a Namaskara, with that power you are prostrating to God chanting the Mantra / Nama, visualising the Deity and concentrating on the diety with total involvement, what else is needed ? That status it self gives us a feeling of unity with God, creates the oneness with God for which we all are longing for.

Thanks a lot once again for this enlightening post. Please continue to do this good for us all.

Baba bless u with fast recovery
Baba bless U with good health always

Baba be with us all
Jai Sai Ram
tana:
om sai ram...

very nice & meaningful post Pravin ji...thanx Pravin ji...

Om Sri Sainathaya Namha...
Om Sri Sainathaya Namha...

jai sai ram...
ANKITA:
Sairam Pravinji thanks a lot for such a wonderful meaningful post.

May Sai bless u with good health and peace.

Sairam
sushmakomandur:
Sai Ram Pravinji,
Very nice posting,I came to know real meaning of what i chant everyday, by seeing u'r posting.
Thanks for sharing with us.
OM SAI NATHAYA NAMAHA.
OM SAI NATHAYA NAMAHA.
OM SAI NATHAYA NAMAHA.
Sushma.
Navigation
[0] Message Index
[#] Next page



Listen Sai Baba Radio: